Private Labels
SoftShirts provides Pad Printing of Neck Labels so everyone can be a brand. To create your brand's label you will need to submit your neck label artwork for each size needed in an EPS file.

Please email your artwork and information to hello@softshirts.com. All labels are printed in 1 color only. Average turn around is 10 business days. See Artwork Info needed below.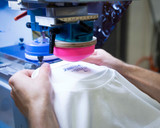 Pricing
One Time Plate Fee: $25 Per Size
Set Up Fee: $20 per size
Cost per shirt: $0.40

Set up fees are waived at 2,000 shirts.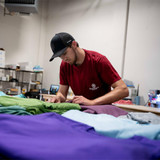 Labels Need the following:
•Your Brand logo
•Fiber Content: 100% Cotton
•Care instructions if you like: Wash Cold, Dry Low etc.
•Country of Origin: Made in India
•Garment Size: Size

Artwork has a 2 inch x 2 inch max printable area. 7 pt is smallest font. Use EPS file and create outlines for text. Please reach out with any questions!
Contact